"When you stand and share your story in an empowering way, your story will heal you, and your story will heal somebody else."  -Iyanla Vanzant
We welcome you to our 'Donor Spotlight' series.
Donor Spotlight: Dr. Jared Reaves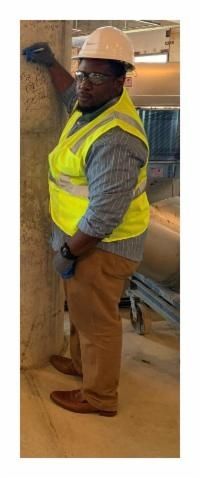 We are excited to introduce our new "Donor Spotlight" series. The series features brief interviews with some of our most loyal donors about why they support Capital Region Health Foundation. We are kicking off our first installment with an interview with Dr. Jared Reaves, the Director of Acute and Patient Rehab.
Dr. Reaves has been a donor since 2018. Below he discusses his work creating equity within the Prince George's county and why he is so passionate about
donating.
---
Hello, what is your name and your title? Dr. Jared W. Reaves, Physician, Medical Director Acute and Patient Rehab. I have been in this position for little over a year. I have been with this organization since 2013.

Are you originally from Prince George's County? Yes, I was born here.

Where did you attend school? For my undergraduate I went to Bowie State University and for Medical School, I went to University of Maryland School of Maryland.

How would you describe yourself? I feel that my mission is to optimize healthcare in the county. The way I approach medicine is in the context of that. I want the county to receive the best healthcare it can from my end and from whatever I am able to affect within the system.

How did you become involved with University of Maryland Capital Region Health? It was originally Dimensions Healthcare system and when University of Maryland purchased Dimensions, I decided to stay. Before I came back to the area, I trained and practice in Hampton Roads/Norfolk area. I wanted to come back to Prince George's County and at the time Dimensions was the primary healthcare in Prince George's county. I wanted to facilitate with delivery healthcare to Prince George's county.

What surprised you the most about Capital Region Health once you became involved? Remember Capital Region Health did not start until 2016. I was happy to see that the organization took hands on approach to community health throughout the county.

Does anyone in your life play a role in supporting your involvement? In providing inspiration? Yes, my wife, brother, father.

What inspired you to donate? My mother inspired me. She passed in 2017 she instilled in us donating and taking part of our community. Especially with the career, we have in our local community. We have a family charitable foundation that my mother established and we are always looking for a community organization to donate to. She established that idea of the importance of giving to the community. If you are able to give, you are able to give equity to your community and you can do that with philanthropy. It is a way to establish equity in your community if you are interested or concern about it you can provide resources that you think are important to your community.

To what programs/services did you donate and why? I have donated to Violence Intervention Program because I am familiar with that program from medical school. I have always been impressed with it since it started and it resonated with me on a personal level. I know people who have suffered trauma and I know a lot of the times you're trying to figure out how to get out of a certain life. Another program I have donated to is the Mama Baby Bus because health starts before day one. I believe that the program establishes a foundation, which is so important.

Why do you think it is important to support UM Capital philanthropically? I feel strong enough to work here. I feels strong enough that the organization can do the work.

What do you hope to accomplish through your philanthropy? I hope to that the programs continue and expand the mission. I also hope that people see that from my generation the millennials especially among African Americans that giving is a habit that we can cultivate. We should be utilizing it to help our community.

How do you describe this organization to others? I would describe it as a hospital system that truly makes the community a priority. They serve completely at the ground level and is the basis to why the system is good for Prince George's County. It optimized healthcare for citizens of the county.

What is the best piece of advice you have ever received? "Don't worry about others people's comfort zone. Bring them into yours. "What do you wish everyone knew about this cause? Giving back can happen at all levels. You do not have to be a billionaire to give to an organization. Every little bit counts when people give to churches they give what they can. Giving to your organization is the same way. If you feels strongly about the mission of your organization, you can support it with resources. If you work with the Foundation, you can do it at the level and pace you are comfortable. There is no greater way of putting equity into your community that giving resources to it. 
If you have any questions, contact Johnathan Gulston at 240-456-2265.