"Change will not come if we wait for some other person, or if we wait for some other time. We are the ones we've been waiting for. We are the change that we seek."  ― Barack Obama
The University of Maryland Capital Region Health is proud to announce the Together, We're The Change Campaign. This campaign will herald a new era in healthcare in Prince George's County. 

An Opportunity to Leave a Legacy

A gift to UM Capital Region Health's Together, We're The Change Campaign is an investment in the healthcare of our community. Each gift strikes a balance between a visual monument of your commitment to the residents of Prince George's County and your desire to support needs within our medical lines of service and specialty programs. Our Comprehensive Naming Opportunities allow you to create a lasting legacy by placing your name on a unit within the UM Capital Region Medical Center. These opportunities are limited in nature and highly visible. You may take advantage of these opportunities through an outright gift or through a gift that is pledged over 5 years. Join us as we bring this vital asset to Prince George's County, Together, We're The Change.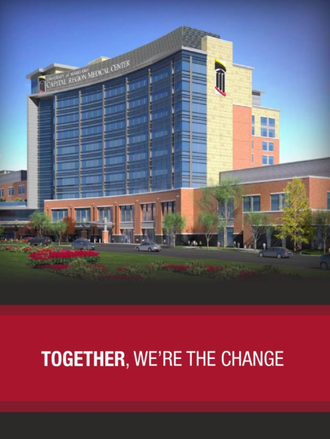 The first floor of UM Capital Region Medical
Center is the gateway to great medicine.
Hallmarked by 7 pillars, the entrance opens up
to the two-story main lobby. From there, patients,
families, visitors and staff can move through the
corridors toward the cafeteria, retail pharmacy,
diagnostic testing, conference paces, administrative
offices and other areas.
The second floor of UM Capital Region Medical Center will
be home to our new, state-of-the-art Level II Trauma Center.
Patients will receive expert level care for the treatment of
traumatic injuries. The second floor will also house our
Domestic Violence and Sexual Assault Center to service
victims and their families. The second floor will be rounded
out by Patient Observation, Imaging and Ultrasound
Services, and a Meditation space for patients and families.
The third floor of UM Capital Region Medical Center is
dedicated to the arrival and care of our tiniest patients and
moms. As the home to our Labor & Delivery Unit and NICU,
the third floor will boast a calm, peaceful environment for
new moms and their babies. This space will feature two Milk
Labs to assist with the breast feeding process, as well as
access to our third floor garden that will feature shaded
benches, blooming trees and plants, and a pathway for
leisurely walks.
The fourth floor of UM Capital Region Medical Center
serves as home base for two very distinct areas within
our medical center – one area is designed for the
learning and enrichment of our residents; the
other is focused on patients who need help with
depression, anxiety, substance abuse or other
mental health issues. Both areas are integral to
our hospital and its population; from those training
as new physicians, eager and ready to help our
patients and the other is an area that provides
patients with a supportive space for further
evaluation to determine the best level of care to
meet their behavioral health needs.
The fifth floor of UM Capital Region Medical Center will house
the Intensive Care Unit (ICU). The ICU will provide care to our
patients with the most critical needs and will include 24/7
in-house physicians, nurses and other advanced care
providers that specialize in critical care.
The Intermediate Care Unit will be housed on the sixth floor
of UM Capital Region Medical Center. This unit will be a
32-bed step-down unit to provide acute care to our patients.
This unit will receive patients from all areas of the hospital,
including the emergency and the ICU.
Our seventh, eighth & ninth floors of UM Capital Region
Medical Center will house our Med-Surgery Unit. Our
Med-Surgery Unit provides acute care to our in-patient
population experiencing a variety of health concerns, ranging
from cardiac, to respiratory and neurological. This unit also
prepares patients for surgical procedures that require
monitoring and care through all phases of their procedure.
The eleventh floor of UM Capital Region Medical Center
will be home to our Helipads. Helipads are a critical aspect
of being able to transport patients quickly and at a
moment's notice. As a part of our affiliation with the
University of Maryland Medical System, we are able to
access additional resources across the system to better
serve our patients in their time of need.
---
Interested in Naming Opportunities within the New Region Medical Center, Contact Us.