The difference between charity and philanthropy is the distance of soul. . . . To be philanthropic is to give something, to be charitable is to give one's own heart." -Maya Angelou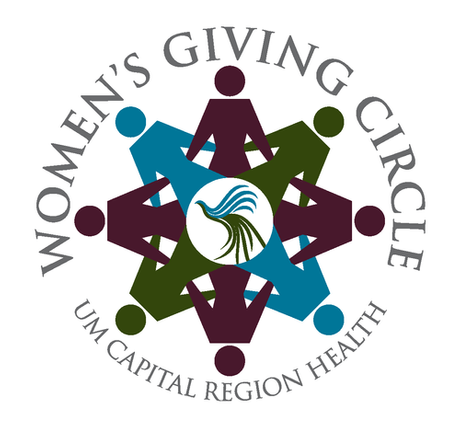 Women's Giving Circle Booklet
Welcome to a New Era
in Women's Health for Residents of Prince George's County and the Region
UM Capital Region Health is committed to achieving its goal of providing comprehensive, high quality, and accessible healthcare to the residents of Prince George's County and the surrounding areas. The new Region Medical Center, strategically located in Largo, MD will promote improved access to primary and ambulatory care services and be a community partner in helping to improve the health status of Prince George's County residents. In partnership with University of Maryland Medical System and the renowned University of Maryland School of Medicine, the new Region Medical Center will serve as a vital asset to assist with successfully recruiting physicians of many specialties to provide high quality, clinically advanced medical care to the region.
But we're not waiting for the new Region Medical Center to improve health outcomes for women. Our patient-centered philosophy means we are sending more doctors, nurses and midwives into the community so you can more easily receive care close to where you live.
---
---
Why Become a Member of the Women's Giving Circle?
UM Capital Region Health Women's Giving Circle is a passionate group of women who recognize the critical role women play in improving the health and overall well-being of their communities. Utilizing the power of collective giving to increase their impact these women create opportunities, through their gifts, to improve the quality of life for women in Prince George's County.
---
MEMBERSHIP BENEFITS
Due to the current pandemic (COVID-19) and the states restrictions, we have had to make adjustments to the previous membership benefits. Updated benefits packages are coming soon. 
---
Initiative
Improved outcomes for Women's Health in Prince George's County begin with You.
In April 2019 UM Capital Region Health is officially launching the first initiative of the Women's Giving Circle, the "1000 for $1000" Campaign. Join us in 2021 for a special unveiling of the unique and inspiring Women's Giving Circle donor recognition wall in the new Women's Health and Labor & Delivery Unit.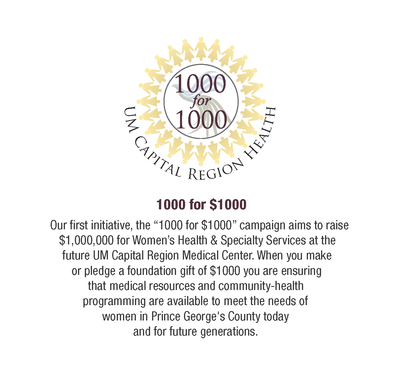 ---
For more information on our Women's Giving Circle and the 1,000 for $1,000 Campaign, special events or to make your donation. 
Contact: Tiffini Gillespie | Development Associate | P: 240-456-2934